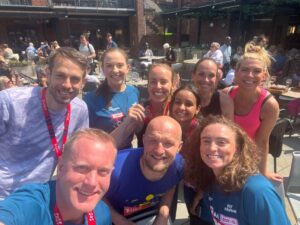 A 14-strong team of Pannone fundraisers took to the streets on Sunday to compete in the 20th Great Manchester Run.
Taking part in both the 10k race and the half marathon, the team raced around the streets of the city, taking in sights such as Beetham Tower and Old Trafford Football Ground, before finishing the race along with more than 25,000 other participants.
The Pannone team were raising money for one of the firm's chosen charities, St Ann's Hospice, with more than £2,500 being raised so far.
Paul Jonson, senior partner at Pannone Corporate, said: "Congratulations to everyone who completed the Great Manchester Run, in what were very hot and sunny conditions!
"It's fantastic to see so many of the team coming together to support one of our chosen charities, St Ann's Hospice – an amazing charity which carries out such vital work across Greater Manchester. It's also really pleasing to see the values and ethos of the firm come to life on the streets of Manchester."
St Ann's Hospice is a Manchester institution and one of the oldest and largest adult hospices outside of London. It provides care and support to people with life-limiting illnesses, as well as to their families and carers.
The Pannone team have a number of other charitable events lined up in support of the charity, including a Tough Mudder challenge later this year. If you would like to support the team, please visit https://www.justgiving.com/fundraising/pannone-corporate-llp